GMC Hummer EV at Shaganappi GM
Shaganappi GM is the preferred GMC dealership in Calgary and Alberta; our services are also available in Cochrane, Red Deer, Lethbridge, Airdrie, and the surrounding areas. It goes unsaid that you should check out the latest GMC vehicles in our new inventory before trying anyone else out. What's more, you can apply for financing by completing our online finance application. We have the latest collection of state-of-the-art GMC vehicles, including trucks, SUVs, commercial vehicles, Denali line, and future vehicles. The GMC Hummer EV falls in the category of future super-truck cars, and with good reason.
Introducing the world's first zero-emissions, completely electric super-truck, the Hummer EV is the classic definition of power, design and advanced technology we have been waiting for from GMC. You can now plunge into off-road destinations with much more confidence, not to mention the futuristic interior and exterior design.
GMC Hummer Performance and Technology
The Hummer EV comes designed to take on the most challenging off-road obstacles. Every aspect of the Hummer EV comes engineered to dominate off-pavements. No other truck in its category can match the Hummer EV's ability to maneuver tight trails. GMC's owing to the revolutionary Crab Walk technology that allows it to do just that crab-walk. The Hummer EV's rear wheels can turn up to 10 degrees in either direction, allowing you to drive diagonally and avoid enormous obstacles in tight trails at low speeds.
Therefore, the Hummer EV can scale boulders and wade through running water thanks to its first-of-the-kind Extract Mode. Once activated, this mode lifts the Hummer EV through Adaptive Air Ride Suspension to about 6 inches high. It is allowing you to ride over challenging obstacles like rocks or boulders comfortably. 
For optimal balance in off-road and on-road performance, the Hummer EV features specially engineered 35-inch Goodyear Wrangler All Territory tires. These tires offer a high ground clearance, with the possibility of installing 37-inch OD tires for those who need more ground clearance.
The Hummer EV's 4-wheel steering comes engineered to optimally reduce turning radius, enabling nimble maneuverability when rock crawling on the trail, switching lanes on the highway, or pulling into a parking lot. Combining with its Adaptive Air Ride Suspension allows the Hummer EV automatically adjusts its ride height in different situations, low for improved aerodynamics and more comfortable entry and exit, and up to 2 inches high for better ground clearance.
GMC Hummer EV Interior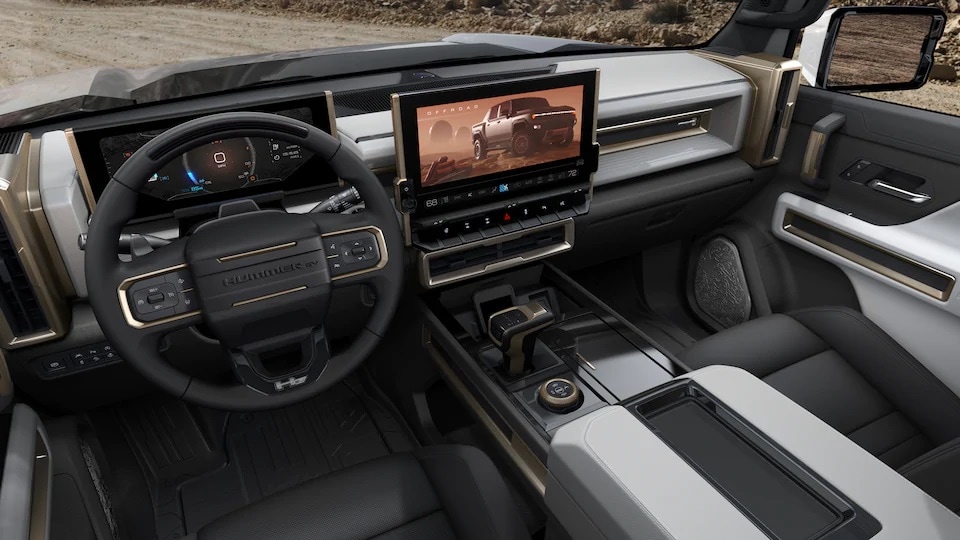 GMC Hummer EV Exterior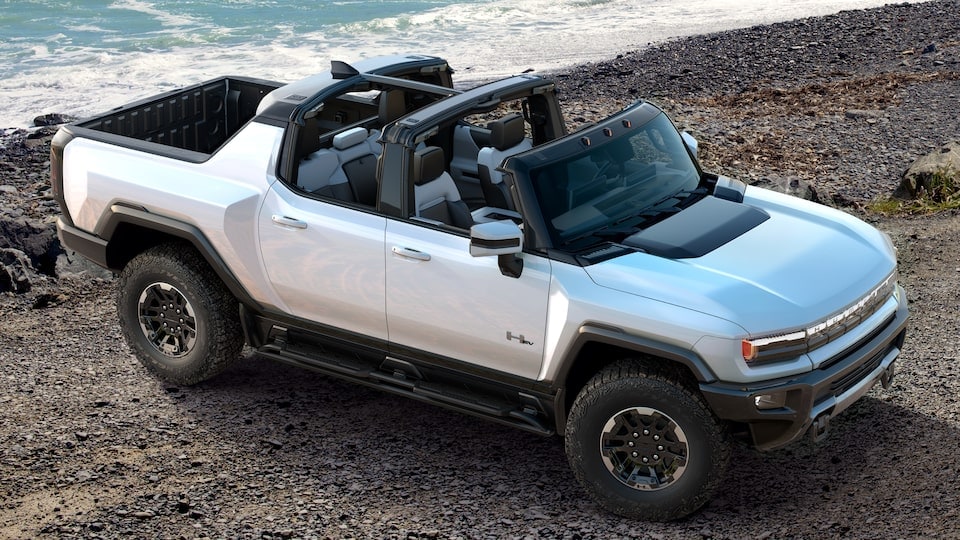 GMC Hummer EV Safety and Design
For maximum safety, the Hummer EV utilizes sturdy steel plates around its differential and its battery pack. Moreover, it has full under-body armour and rock sliders to protect the EV from tough rocks and boulders during extreme off-roading excursions.
The Hummer EV also features the industry-leading Infinity Roof with modular Sky Panels that create the best (arguably) open-air experience in trucks. The Infinity Roof allows you to remove the four roof panels and let in the natural breeze as you cruise new terrain. Moreover, if you'd only like to view the sky without removing the modular panels, there are Transparent Sky Panels available. They are also tinted to protect you and your passengers from the elements as you enjoy the breathtaking view.
What's more, the Hummer EV features underbody cameras that are waterproof to help you get a better real-time view of the truck's line along the trail without having to crouch under your vehicle. Strategically placed low under the car, they offer up to 18 camera views, with both front and rear-facing cameras to help you see beyond the EV's skid plates. Additionally, the cameras feature an automatic wash function and include replaceable lens protectors.
As is every aspect of the Hummer EV, its interior comes designed with unparalleled luxury and innovation. With its Lunar Horizon themed interior inspired by otherworldly landscapes and intergalactic travel, it allows you to take in the splendid Bronze accents, the durable all-weather flooring, and much more.
Hummer EV Trims
Hummer EV 2 trim
• 2 motors
• Estimated 400+ KM drive range
• 7400 lb./ 625 hp.
Hummer EV 2X trim
• 2 motors
• Estimated 480+ KM drive range
• 7400 lb. / 625 hp.
Hummer EV 3X trim
• 3 motors
• Estimated 560+ KM range
• 11,500 lb. / 625 hp.
Contact Us Today!
To get the GMC Hummer EV, hop onto our online platform, view its features and sign up for updates on the revolutionary super-truck. From there, you can view our latest GMC inventory, apply for financing, or contact us. We do look forward to hearing from you.
Make an Inquiry
* Indicates a required field