XPEL Paint Protection Film Application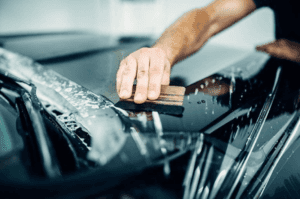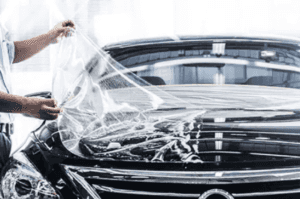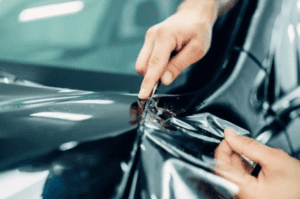 Preserve Your Car's Finish with Paint Protection Film
Use our new XPEL application on your car to protect the paint from rocks, bugs, stones, sand, harsh weather, keys, salt, rings and other elements. Get it professionally applied by Shaganappi GM to high-impact, vulnerable areas of your car to keep it looking newer longer.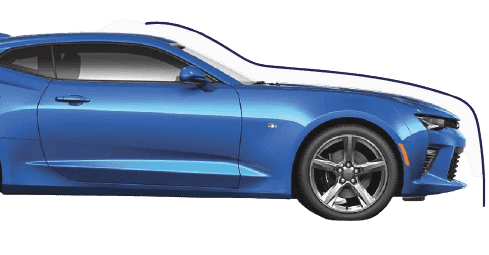 Protection From
---
Scratches

Chips

Acid Rain

Mineral Deposits
UV Fading

Water Marks

Bug Splatter

Bird Droppings
Frequently Asked Questions
Can XPEL Paint Protection Film be installed on a brand new vehicle?
Yes, most factory paint is fully cured before the car ever leaves the assembly line.
While you can wax the film, be sure the product you are using doesn't contain Naphtha or Kerosene in concentrations over 5%, and avoid waxes that contain dyes. For best results, we recommend using our XPEL Flawless Finish Paint Protection Film Sealant or XPEL Ceramic Boost. This product has been specially formulated for use with polyurethane paint protection films to provide the maximum protection and gloss, while containing no ingredients that would cause discoloration over time.
Can I use Detailing Clay on the Film?
Yes. The process is the same as with regular paint: wet the surface with a lubricant such as XPEL Detail Spray or soapy water and then gently rub the surface with the clay bar. For stubborn insect, bird dropping, or hard water stains, use an all-purpose degreaser such as Simple Green as the lubricant for the detailing clay.
Can XPEL Film be applied to chrome?
Any of our films can be installed on Chrome, though the finish will look slightly different than if left unprotected. We recommend having your installer apply a small swatch to the desired surface so you can see what it looks like before deciding.
How deep of a scratch can Film still heal?
The clear coat is the self-healing layer and is approximately 13 microns thick. If that layer is penetrated, the film will not heal.
Can I cover my whole vehicle with XPEL Film?
Yes. Most smooth painted surface can be covered with paint protection film
Can I run my car through an Automatic Car Wash?
Yes, but please wait at least 48 hours after installation to allow the film to dry completely.
What happens if you put Acry-Solvent on the Film?
Acry-solvent, or any other Xylene based solvent, will not harm the film unless left sitting saturated in it for an extended period. To use this type of solvent on the film (for removing stains, etc.) wet a microfiber towel with the product and wipe the film for one or two minutes. If the stain remains, allow the solvent to evaporate and then repeat the process.
Will removing the Film harm the vehicles paint, once removed?
It is highly unlikely for paint protection film to harm OEM paint. Paint systems used on modern assembly lines today produce a minimum bond strength of 16 MPa and maximum of 25 MPa between the panel and the paint depending on color, iridescence and the system used. Our film's bond to the painted surface at normal state (immediately following installation) is .0753 MPa. Even after years of heat and sun, the bond between the film and the paint increases to only 0.17 MPa. What that means is in the absolute worst case scenario, the bond of factory paint to the panel is over 94 times stronger than the bond of our film to the paint. In the best case, the paint is 332 times stronger. That being said, it is still recommended to have a professional remove the film in accordance with our published guidelines.
Can I have XPEL installed over my vinyl wrap or racing stripes?
Yes. XPEL film can be applied over a vinyl wrap or graphics. However, if there are any hard edges that film must cross (as in the case of stripes), it could result in some air being trapped along that edge.
Can I install a vinyl stripe on top of XPEL Paint Protection Film?
Yes, you can install a vinyl on top of the film. We recommend waiting 48 hours after installation before doing so.
Can XPEL be installed on your vehicles headlights and fog lights?
Yes, XPEL can be installed on your cars headlamps and fog lamps.
Can XPEL be applied over a vehicle that has had paint touch ups?
Yes. Though you can install the film over any quality of touch-up, the best possible appearance will be obtained if the touched up area has been color-sanded smooth and buffed after the application of the paint.
Can XPEL Film be installed on the glossy interior panels of my car?
Yes. XPEL ULTIMATE PLUS can be applied to any smooth surface, though care should be taken around any electronics and/or switches so that installation fluids aren't allowed to get into sensitive areas.
If I get a Partial Front End Wrap, will the edge of the Film be noticeable?
While the edge of the film can be seen from certain angles, people generally do not notice it unless they are looking for it. However, if the car is dirty and dust and dirt can collect along the edge of the film, it will be more noticeable. Once the car is cleaned, it will be once again difficult to detect unless looking for it.
Will I be able to remove the stripe without damaging the Clear Protection?
You may remove the stripe without damaging the film, if removed properly.
Questions About Our XPEL Application?